Professional Development: The Practice of ANESTHESIOLOGY 2019
How to register:
Step 1:
Click on registration link below.
Step 2: You will see the following screen.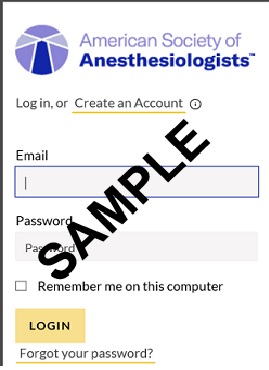 Step 3:
After logging in, you will automatically be redirected to complete the registration process.
REGISTRATION INFORMATION
Early bird discounted rate $855 ends October 4, 2019
15% off each registration when you register a group (3+ from same company)
To qualify for the group discount, all registrants in the group must be with the same institution address; only ONE payment to cover all registrations will be accepted.
Registrations that were submitted earlier or arrive later will NOT be eligible for the group discount, nor will they count toward the 3-person minimum.
Due to the intimate learning style of the conference, registration is limited to 60 attendees.
The last day to register is Friday, November 29, 2019 by 5:00 p.m. PST.